Test results of the 5 best SSDs choose the best budget SSD for 2020
|
Now it's hard to believe, but the first 1 TB hard drive appeared on the market not once in prehistoric times, but only in early 2007. Two and a half years later, a laptop drive of such capacity was announced. Interestingly, such a solid-state drive was formally presented to the general public in the same year a few months earlier, but … Given the prices of flash memory at that time, the novelty was clearly not aimed at the consumer market, and indeed, it seems that before real sales got there. So it's more correct to consider OCZ Octane as the first-born for the consumer market: Indilinx Everest's own controller "pulled" such an amount of memory without additional tricks (unlike the mass platforms of that time), which allowed the company not only to announce the device in October 2011 but also put it into the mass sale. Of course, it was only relatively massive: the price of a terabyte modification was $ 1,100. Not so much for an "exclusive", but it does not at all seem like the amount that an average PC user would be willing to layout. Therefore, most of those in those years did without an SSD at all, and the minority that "joined" the technology rarely went beyond 128 GB.
The reduction in the cost of NAND flash and the prices of the devices using it in the following years did not increase the capacity of the acquired "average" SSD too much. Sales grew rapidly "in pieces" – but because an increasing number of buyers became available "entrance ticket" in the form of budget devices of minimum capacity. They were limited to them, preferring to use cheaper (in relative terms) hard drives for storing large amounts of information. Buyers are not too chasing the capacity of the latter: the industry has now mastered 15-16 TB, but 1-2 TB models are still being purchased. And solid-state drives of such capacity have long ceased to scare with their prices, but are still not too popular as a mass product. One year ago forecasts were made that by the end of 2019, half a terabyte will at least catch a quarter in terms of sales. However, since October, the decline in flash prices has been replaced by growth, then all sorts of viral sores have been added to this, so it seems that the assumptions if justified, are minimized. As well as assumptions about the parity of interfaces: in fact, while NVMe-drives continue to cost on average more expensive than SATA-analogues.
So SATA models for a quarter terabyte continue to remain relevant – especially in our country, where the overall increase in NAND flash prices was intensified by the devaluation of the ruble in spring. However … you need to buy something! Not in the sense that SSDs are essential commodities, like food products – but, generally speaking, computers are in demand even in times of crisis. Just have to squeeze the "Wishlist". For example, instead of a half terabyte NVMe drive, take good SATA of the same capacity, or even half as much. And if the plans were to buy a "middling" of 240-256 GB, then the obvious (and almost the only) way to save money is to buy a budget device of this capacity. However, such drives were rarely visited by us.
But the cheapest minimum entry-level drives we tested almost a year ago. There was an idea to repeat – however, it turned out that nothing interesting was happening in this segment. Well, except that the rest of the "mid-level" models, such as the Intel SSD 545s or the old rulers of other manufacturers, were finally "washed" from there. In general, everything became even more boring. Therefore, we decided to look at the same families, but with a slightly higher capacity. One reason to do this is described above. The second is that 240/256 GB is sometimes enoughfor a computer, even "without support" from the side of an additional hard drive. 120/128 GB, in principle, can also be enough for these purposes – but much less often. Basically, drives with a capacity of a quarter terabyte (or even less) are used in "office PCs", where there is no multimedia, and work files are often stored on the network, and locally you need only a system and a limited set of software. Also, 256 GB is the default on many laptops – and this is enough for everything except sophisticated games. And since most computer users don't even play casual games, this isn't scary. It is also clear that such a volume is not enough for storing video, but this is not scary for everyone, since streaming services are gaining popularity not from scratch. In a desktop computer, such an SSD can be adjacent to a hard drive,
In general, a 240/256 GB SSD is a normal budget option. Of course, with proper use : we believe that buying a low-capacity drive from the "expensive" line does not make sense, since this instantly kills the very "budget". The purchase of a mid-range SATA SSD, however, is justified, but these models are also gradually migrating towards larger capacities. But the "initial" NVMe justified only at SATA prices. However, since it was not possible to bring down the margin "for fashion" over the past year, when you try to lower the price of an NVMe drive, you have to save more on the stuffing. Still, the budget SATA is cheaper. Therefore, if the task is to save, this is exactly what needs to be done. But carefully 🙂 And what you can get for that kind of money – today we'll evaluate it with a few practical examples.
Adata SU650 240 GB
The company ate the dog on budget drives, experimenting with might and main types of memory and controllers, so in its assortment this is not the cheapest offer – there are also SU630 and SU635 on QLC. Of course, we believe that this memory is justified only in large volumes (besides, low speed characteristics are somewhat masked as such), which does not apply to 240 or 480 GB. But to try how it works will be interesting, of course. But not today – since all the rest of our heroes (as well as so far the majority of drives on the market) use TLC, the SU650 will protect Adata colors.
However, this one is unique in its own way: firstly, with the Realtek RL6468 controller, and secondly, with 96-layer 3D TLC NAND Micron memory with 512 Gbit crystals. The latter is formally the best and most perfect work of the former joint venture of Intel and Micron. But the companies spent so much time on fine-tuning the production process that basically this type is found in budget products. And most often with the SpecTek marking (that is, it is Micron "second fresh") – or with generally abstract. Like here – Adata most often relays chips for itself. As for the controller, then, besides Adata, few people on the market use Realtek products in general. However, in this segment, in general, all controllers are the same in the world – a four-channel bufferless solution similar to Maxiotek, Phison or Silicon Motion products. Initially, by the way, the SM6258XT also appeared in the SU650 – but since 2018, Realtek has been steadily running. The memory only from 64-layer has changed to 96-layer, although, as already mentioned, at the moment this is hardly worth considering an advantage.
Note that the controllers of this manufacturer even cope with reading sometimes not quickly – they provide normal speed only within the SLC cache. This is all the more true for recording, so we observe the static part at about 6% -7% of capacity (≈15 GB) where the performance is maximum, then on an empty device you can "turn around" with a single-bit recording somewhere in about a third of the full capacity (in general case – free), where a little slower, but also good, well, and then … Then there will be soup with a cat – below 50 MB / s with dips up to 20 MB / s. And, looking at such successes, you start to think – maybe you should save even more and buy a QLC? 🙂 But this is, of course, everyone will have to decide on their own. Just remember that in this case, the TLC is not voted on by the high-speed characteristics, but by the warranty conditions: on the SU650 / 240, its duration is three years witha mileage limit of 140 TB for the entire duration (the SU630 / SU635 is worse).
In general, such an implementation of ultra-budget SSD. How it will look in comparison with others – we'll see.
Crucial BX500 240 GB
In the conditions of such a whistle in the budget sector, the BX500 begins to look something native and stable 🙂 However, in high-capacity models, the company judges by the reviews using QLC, but the configuration of the younger ones has not changed over the past year: Silicon Motion SM2258XT and its own 64-layer 3D NAND TLC with 256 Gb crystals. That is, everything is the same as in the 120 GB modification studied a year ago , but there are more memory crystals, so the performance in some scenarios can be higher.
Recording here is also contraindicated: SM2258XT can write data only through the SLC cache, under which it uses up to a third of the free space, so until it runs out, everything is fast. It will end – it is necessary to squeeze the "old" data and accept the "new", so that we get a little more than 60 MB / s. But against the backdrop of the SU650, it's just some kind of holiday – the VX500 spent almost two (!) Times less time on a full prescription of 240 GB: 35 and a half minutes versus almost 70. It's clear that I squeezed a little and due to the smaller memory crystals but still an exponential difference. At the same time, the same three-year warranty – but only 80 TB of the total recording volume. On the other hand, looking at the speed of the very recording, it is clear that, if it is important, you need to look for a bidder to buy in completely different places.
Patriot Burst 240 GB
All Patriot models are Phison's standard reference design, so the company does not allow their own liberties with the filling, but is forced to hesitate along with the party line . In particular, all devices based on the Phison S11 initially used the 64-layer 3D NAND TLC BiCS3 Toshiba memory, but last year it … just ended: the company began the transition to BiCS4. For a while, in the budget models, in the end, I came across anything – first of all, Intel / Micron, but up to QLC (Burst at 240 GB in this form was noticed). Now everything has basically settled down – in our copy we found Phison S11 and 96-layer 3D NAND TLC BiCS4 Kioxia (formerly Toshiba) with 256 Gbit crystals.
SanDisk SSD Plus 240GB
We already wrote about the difficult fate of this family , getting acquainted with the second version of WD Green , since these are twin brothers. But in a nutshell – worth repeating.
The history of SSD Plus began back in 2015 during the reign of MLC-memory, so that it was possible to save only on the controller and DRAM. And this was done – in the drives of the G25 family a bufferless Silicon Motion SM2246XT was used. However, after a couple of years, the MLC in the budget segment began to look strange, and the SM2246XT also found some flaws, so the G26 line appeared on the market: Silicon Motion SM2258XT and the 15-nanometer "planar" TLC NAND SanDisk with 128 Gbit crystals. It was these models that were also sold as the first generation WD Green PC SSD. And then the second appeared – its own SanDisk controller and its own 64-layer 3D NAND TLC with 256 Gb crystals. Moreover, to distinguish them in the case of Green, at least it is possible (G1 and G2 in the full article), but SanDisk is impossible: they are all G26. However, the old models from the sale still disappeared – only new ones remained. And, apparently, the new ones are already a little "fixed" – on BiCS4 (96-layer) and a little tinted controller. Although you can mainly see this only in benchmarks, it's not always the same – otherwise the manufacturer does not disclose the "internal kitchen".
But consecutive operations are handled well. Even with a record – given the class, of course. But it took one and a half times less to complete the data than Crucial or Patriot, and without any outstanding SLC cache sizes, and the difference with the Adata SU650 was threefold. The weak point of the SanDisk controller (as we already know from the Green / 120 results) is a small block. As a result, in some scenarios the drive will act as a whipping boy – at least in parrots. Some will not. Warranty conditions are similar to the Crucial BX500, that is, the same three years and no more than 80 TB of recordings – with the only difference being that SanDisk / WD can be replaced without a retail store and directly in the country. In a turbulent economic situation – it is important (however, in a calm, I remember, some outlets liked to change their legal entities and refuse warranty obligations). So in aggregate – not bad. Here are just a few expensive ones – especially considering the speed characteristics. Just the case when, perhaps , it is worth paying a little more – and already buy a device of a higher class.
Silicon Power Slim S55 240 (256) GB
But first, let's see what else manufacturers can offer in the budget segment. For example, S55 – which began to surprise us at the first connection to a computer, since it showed not 240 as promised, but all 256 GB of memory. There was a feeling that the "correct" S55 blanks were over, so they glued such a sticker to the A56 (for example) and put it on sale. In general, no wonder – the typical reference Phison (that one, that the other), with the exception of the sticker with the accuracy of the hole is identical, for example, Patriot Burst. However, as it turned out later, this is not a bug, but a feature, currently true for all drives with a formal capacity of 240 GB. Simply implemented: the benefit is the whole difference between 240 and 256 – setting the number of backup cells, and physically the same devices. Having a large available capacity, you can take more to the reserve on your own (without marking up the device completely, for example), the opposite is not true, so these "extra" 16 GB are a competitive advantage in this segment.
The insides and "behavior", however, turned out to be curious. In particular, here the Phison S11 is adjacent to the 96-layer 3D TLC NAND Micron memory with 512 Gbit crystals, but "Spectek bottling". In general, with the exception of the controller, everything is very similar to the Adata SU650. And the controller and the address of the actual production – like Patriot Burst (and, by the way, the same Burst and met with such memory too). So the common connections of today's participants are not only prices.
The firmware for this configuration cannot be attributed to performance standards (from the point of view of sequential recording of large volumes of information): outside the small static SLC cache, St. Witt's dance begins , which Silicon Motion would envy. As a result, 74 minutes to record the unfortunate 256 GB of information – just like the SU650. It is clear that the main "fault" here is not Silicon Power, but Phison itself, which deals with firmware and the actual production of these models. But all the same – of course it scares. Despite the fact that the firmware date is the end of October last year, that is, it is not so old. Another question is that by losing in one, you can win in something else – so for now we will refrain from conclusions.
However, predictability is not something worth looking for for the money. Much depends on luck – not always with the controller, there is certainty. On the other hand, in the case of S11 it, as we see, does not save – the firmware is very different, and for different types of memory different sets. There is a suspicion that suppliers themselves do not always know what Phison will ship to them. To which they add their portion of the mess – generally speaking, in the Silicon Power assortment, a model with this name appeared in 2014 and then was a typical product based on SandForce SF-2281 and MLC-memory. Then it "moved" to the Phison S8 with a DRAM buffer, and then changed with the Phison assortment, having "tried" at the same time a bunch of memory options. Now we have come across such a configuration – but this does not mean that in a month it will be in stores, not something based on the Phison S13 with Micron's 96-layer QLC memory. There are no such guarantees. They need to be sought for other money. And here in terms of the "guarantee" there is only one type of it – that same replacement within three years, and the "resource" is not specified, but there is the opportunity to change the drive directly from the manufacturer. But with international forwarding, of course – but it is placed in the mail envelope if that 🙂
WD Blue 3D 250 GB
This "guest" from a completely different field is one of the few remaining (already) middle-class models of such capacity. Why do we need it today? Firstly, as a guideline for comparison with budget models. Secondly, these need to be regularly "checked" – after all, the lineup is already more than two years old, so you never know what could have changed. And some suspicions arose after the device was first turned on: when firmware 401020WD was found in it, which strongly resembles the firmware naming system for the company's own controllers: for example, the Blue SN500 came into our hands with the firmware 201000WD, and the Black SN750 – 102000WD. At the same time, Marvell's SATA models had firmware with names like X61130WD (WD Blue 3D), X41000WD (WD Blue on "flat" memory) or X61110RL (SanDisk Ultra 3D).
An autopsy showed that they were very worried in vain – inside there is the same four-channel Marvell 88SS1074 with the same 256 MB LPDDR3, but already a 96-layer 3D NAND TLC BiCS4 SanDisk. The firmware had to be modified to support it, but at the same time it was renamed for unification, and the company, apparently, is not going to change the hardware significantly. Although in less time the "blue" NVMe not only appeared at all, but already upgraded once from SN500 to SN550 (with the replacement of both the controller and memory), there is no contradiction here – quite the contrary: almost the main sales are generally budget Green / Plus, the "trendy" NVMe are slowly gaining momentum, and the middle-class SATA … Will be released until the stock of old controllers runs out, after which they may be completely eliminated.
What are they needed for? It can be clearly seen even in such a simple situation as sequential recording – despite the fact that Blue / Ultra 3D at 250 GB in this discipline is not a record holder at all, budget devices are far from such a level. And in operations at random addresses, the old (already, even, very old) Marvell 1074 paired with DRAM often makes it possible to light up "reduced" controllers. And a five-year warranty, albeit limited by the full recording capacity of 100 TB. Moreover, the size of the surcharge for all this in absolute figures is not so great even now. Therefore, the obvious alternative to budget products is increasingly rare.
Samples for comparison
The last time we compared the 120 GB budget models mainly within the class, but additionally took a quarter terabyte of Intel SSD 545s, Samsung 860 Evo and SanDisk Ultra 3D. Since then, Intel has significantly reduced the supply of 545s, which led to higher prices (the company has become very cold for SATA in general), but for now we will leave it as a well-studied and familiar model for many. Moreover, in speed it is almost identical to the Crucial MX500, which can be purchased just inexpensively – but, alas, we did not test it. And with Ultra 3D, everything is clear – it is almost a complete analogue of WD Blue 3D, but the last one this time we got in a slightly updated version, so we need to compare them.
In addition, we will take the results of those budget models that are being tested again – with a different capacity. Sometimes by memory – but other major changes have not occurred.
Testing methodology
The technique is described in detail in a separate article . There you can get acquainted with the used hardware and software.
Application Performance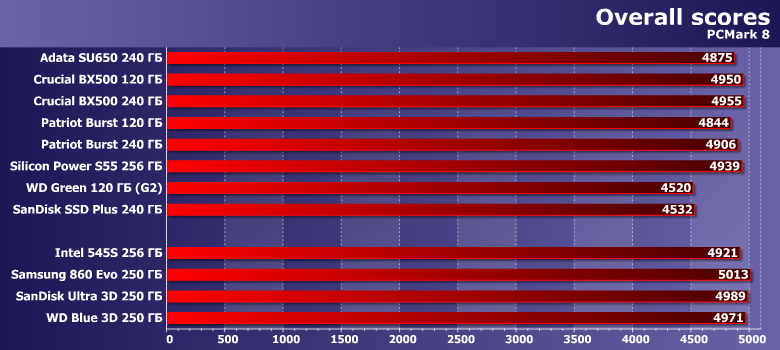 As has been said more than once, in contrast to "mechanics", SSDs almost never turn out to be a bottleneck in terms of system-wide tests, since performance is determined by completely different components of the system (and not only hardware). However, the "green series" WD, regardless of the label, is an outsider with any capacity here. But you can ignore this, since any hard drives are fundamentally slower, but the difference between SSDs is no longer fundamental. And beyond the boundaries of such read-only rulers, one can even consider what is missing.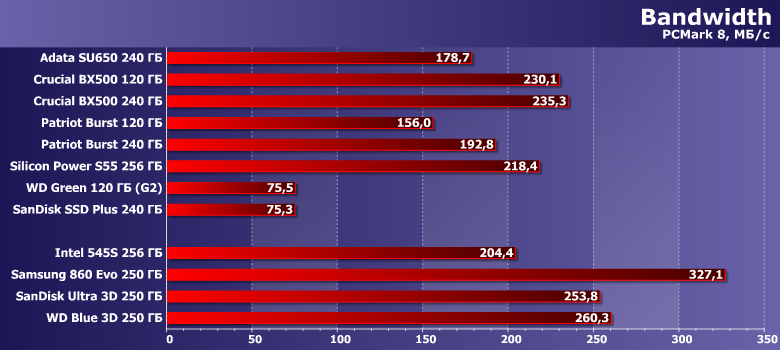 If applications really needed more, it would increase. But also unprincipled. It's also clearly visible that dynamic caching with enough free space can work wonders: the 860 Evo is fundamentally faster than anyone, and Crucial is good out of budget models. With any capacity – SLC mode eliminates the benefit of increasing the degree of alternation. Further Silicon Power – with a behavior atypical for Phison S11. However, as you can see, for the system drive this is more a plus than a minus. The rest do not get even 200 MB / s, to which perhaps only the 240 GB Burst is closer. On the other hand, Intel X25-M ten years ago demonstrated here 125 MB / s – and this was an amazing record. And for hard drives, the results are generally 20-30 MB / s, for eMMC modules in tablets – about 60 MB / s, so WD Green / SanDisk SSD Plus, it seems, and there's nothing to criticize. If the price corresponded to this, then they would not have been criticized.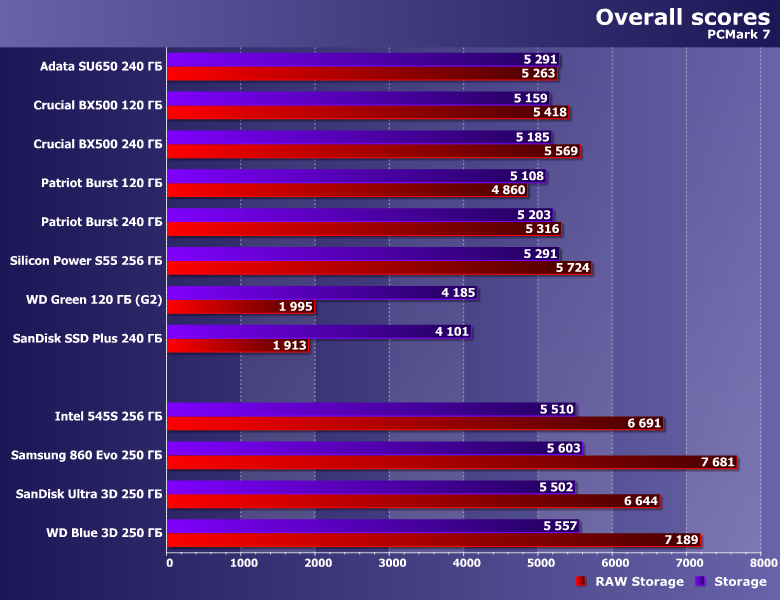 The previous version of the test package shows similar results (so that, in principle, it will be possible to refuse it soon). It also clearly divides the subjects into groups. Mid-range SSDs significantly gain points in RAW mode (where delays in real software operation are not taken into account – the tracks simply "run" at the maximum speed for the drive), the budget is in place … And the third category is WD Green / SanDisk SSD Plus, where potential performance is sacrificed for cost effectiveness. However, we repeat, and this is, in principle, better than hard drives can.
Sequential operations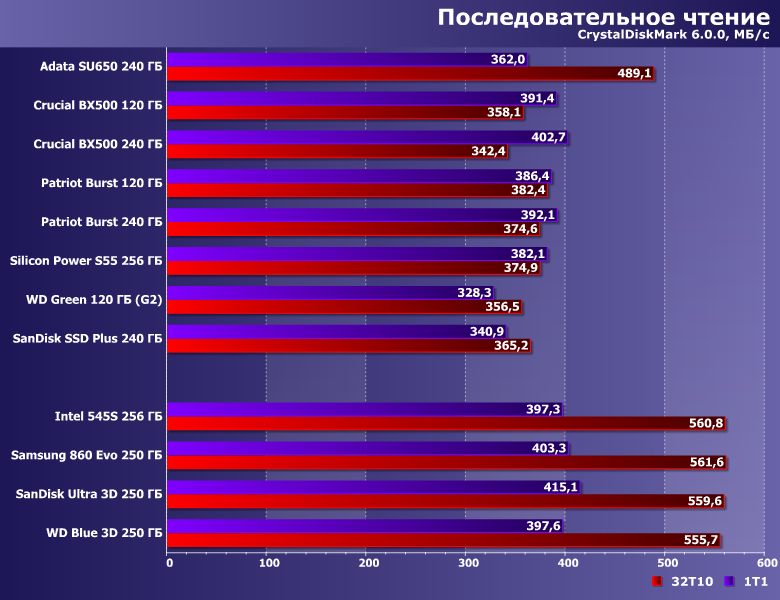 A "decent" result in multi-threaded reading is only with the Adata SU650, but only due to the fact that Realtek controllers are able to quickly work with the SLC cache, and in this test it is used according to the full program. But even he is significantly behind the drives of the middle class, and others – even more so. At the same time, they are almost equivalent to each other.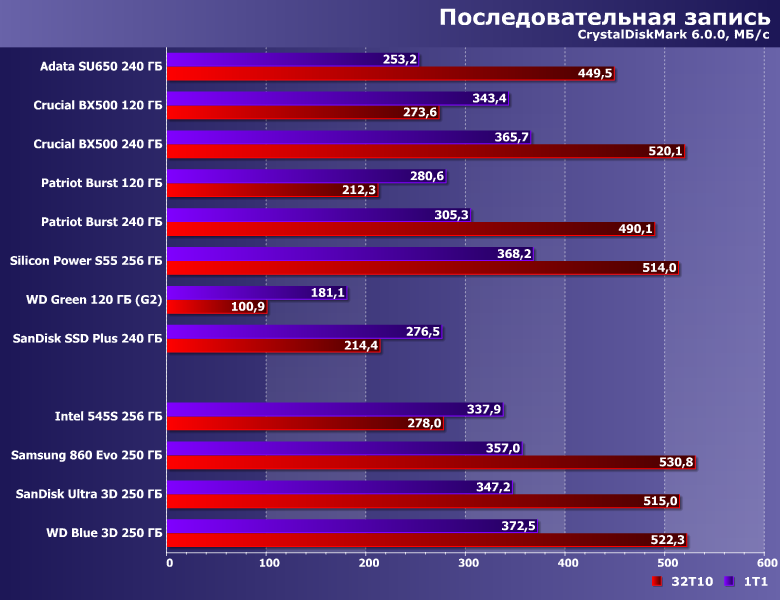 To evaluate the recording speed by the results of low-level utilities in our time of "computational photography" (more precisely, cache-building) is generally an ungrateful matter. By and large, we present the results of CrystalDiskMark because many people use this program – so they can simply compare the results with their own. And for accurate estimates in such scenarios – we have more accurate tools, but more on that later.
Random access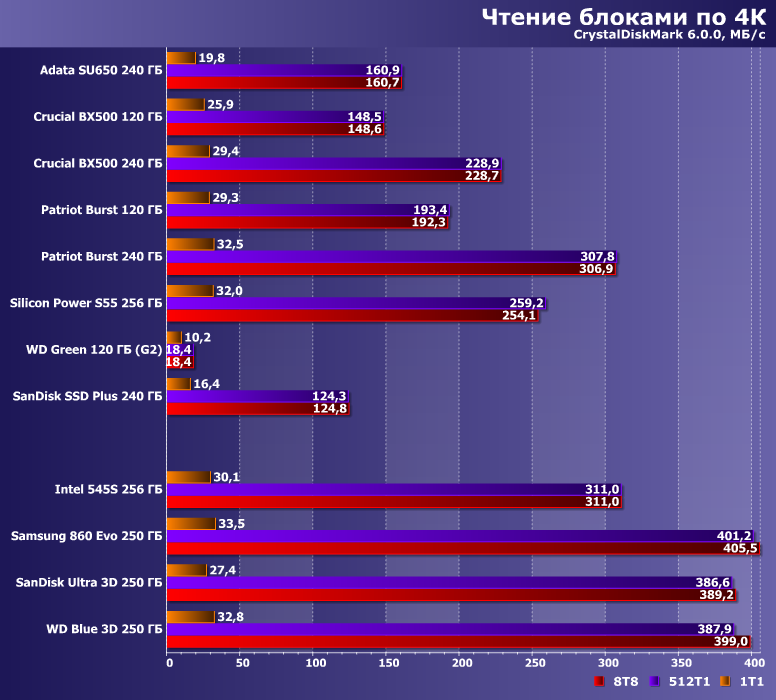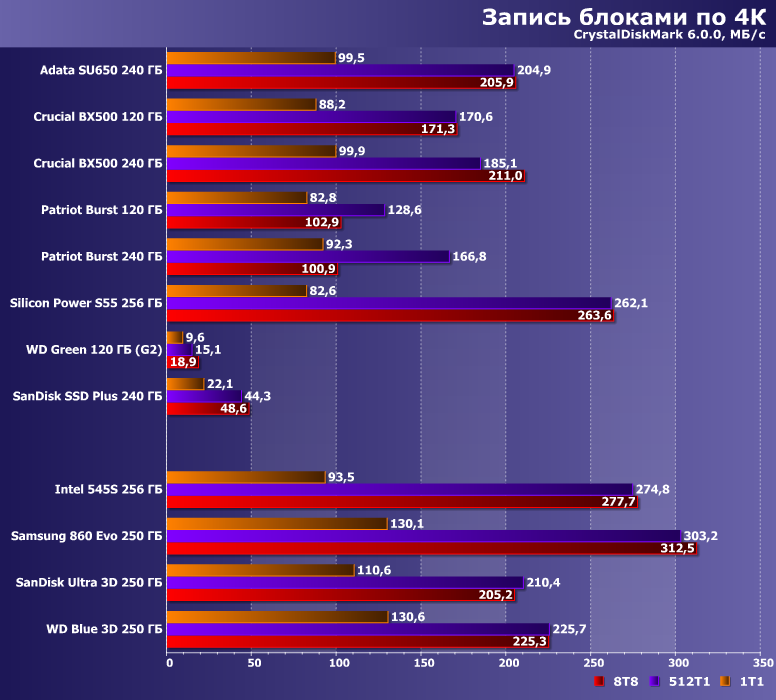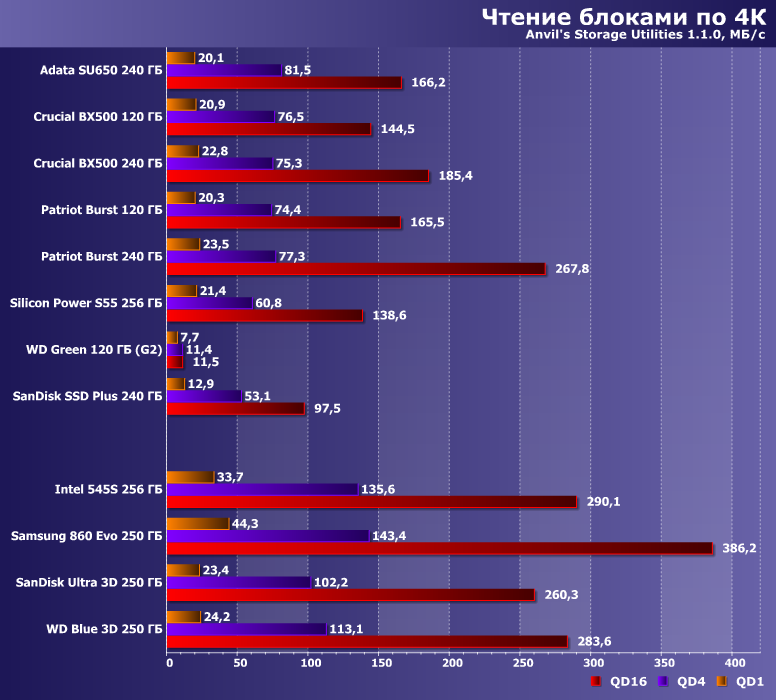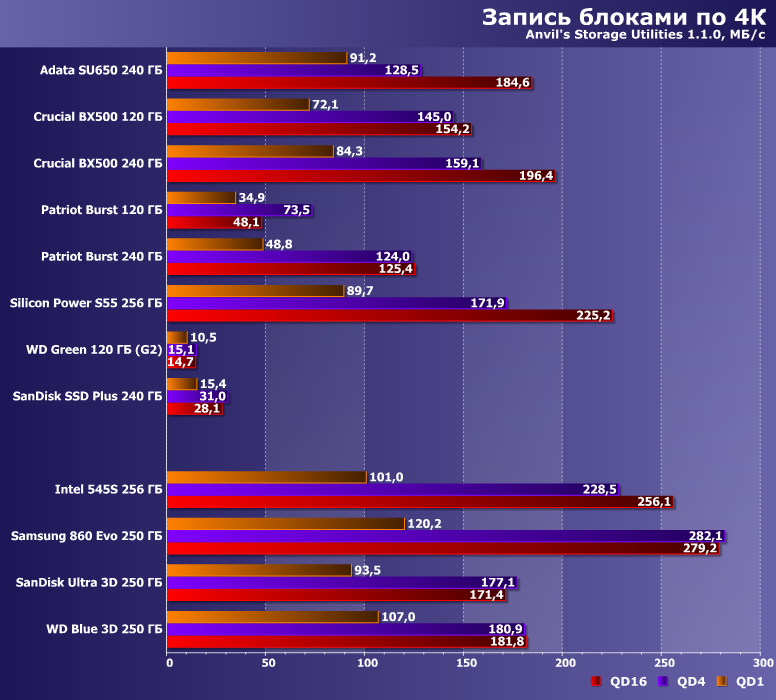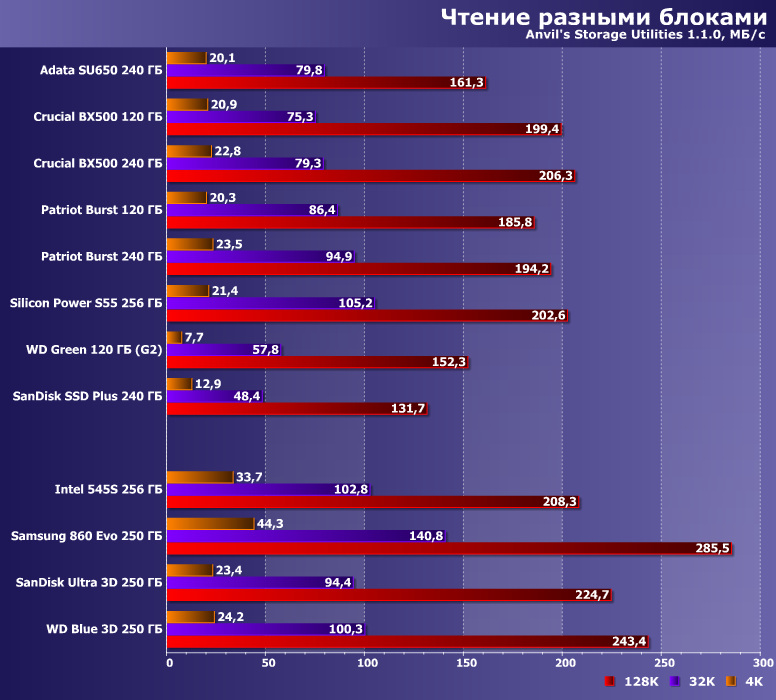 And here, aggressive caching works in full swing (and the more aggressive the better), primarily designed to "mask" the lack of speed of the memory itself. On the other hand, it's obvious that this does not always help budget controllers – since they themselves do not work fast, and the lack of DRAM slows down address translation even in such not-so-complicated scenarios. However, in practice, reading operations are of the greatest importance in a personal environment, moreover, with "short" queues, and everyone has been coping with them tolerably long ago – and as much as memory allows. Not too diverse – in our subjects it literally has three or four species, moreover, at the same time of production. Only their own budget controllers SanDisk / WD are fundamentally behind those on 4K / QD1 – but this is not news at all.
Work with large files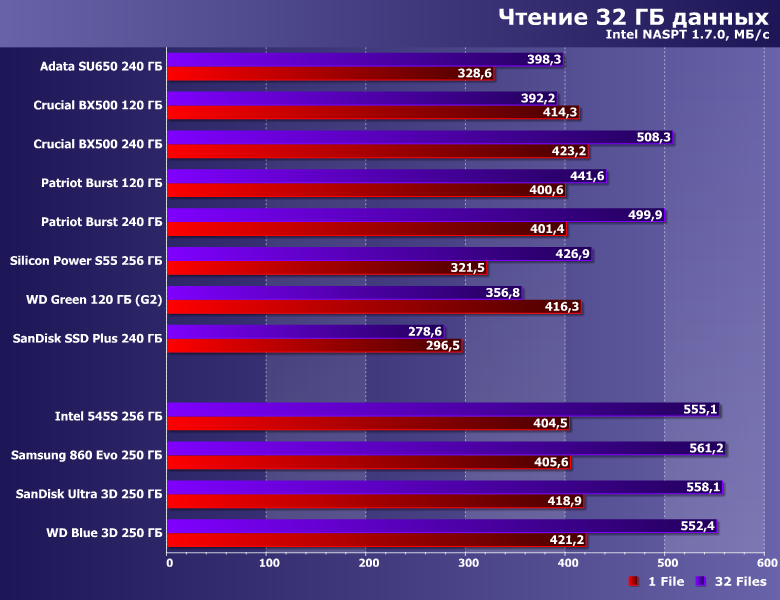 As you can see, budget drives of low capacity still can't utilize the good old SATA600 interface even when reading data. It would seem that the Phison S11 should be an outsider here – since it is two-channel. However, ironically, the drives on it here are not the slowest. Even if we distract from the "green" WD – which in this regard, "refinement" went clearly not in favor.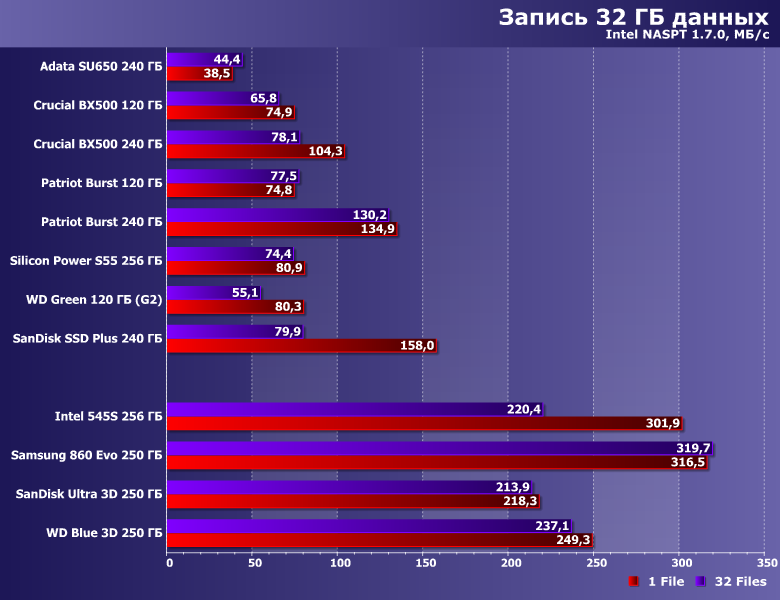 As for the recording of more or less noticeable amounts of data, if life and reason are dear to you, stay away from peat bogs. In terms of budget SSDs – which in such conditions behave either badly or completely disgusting. And you can't even say that the capacity helps them in the general case – since the Adata SU650 at 240 GB demonstrates a truly "outstanding" result: it managed to lose noticeably to everyone and even tried to meet the USB 2.0 capabilities. And this despite the fact that the "rest" is not fundamentally better. Except, perhaps, S11 + BiCS4 (which combination we have today represented by Patriot Burst), but only against the general background – average SSDs of the same capacity are 1.5 times faster. And even in two. In general, if such loads are worrying, you will have to pay extra. Another question is that sometimes they can be neglected not only in theory but also in practice. For instance,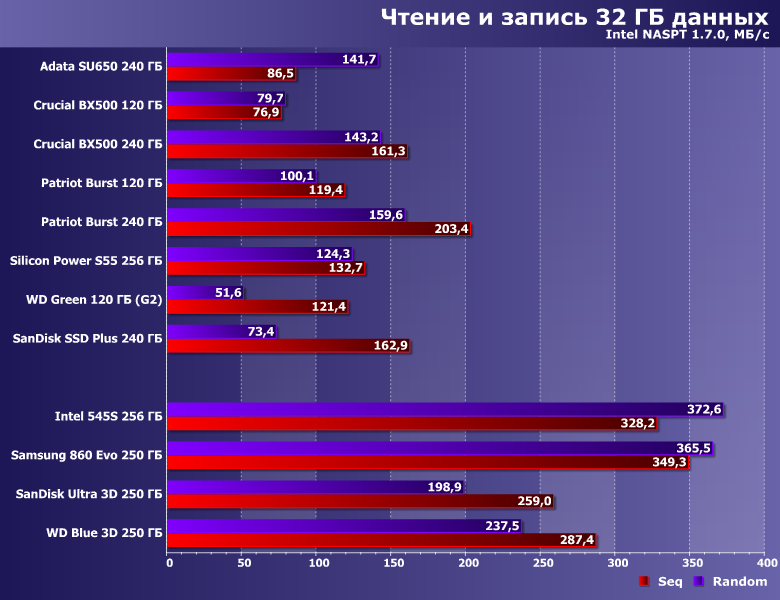 The same can be said about reading with writing. On the whole, it turns out that intensive disk operations of any kind are not the best at all, which can happen with low-cost budget drives. There is nothing surprising, of course, in this – but it is advisable to take into account this nuance "before", and not "after". Saving by saving – but it is advisable not to overdo it. So, if there is no complete certainty that "the cheapest device" is enough, it's better not to take risks, but to lay down for the worst. Just because money can be earned – and nerve cells are not restored. And cash costs, by and large, are not so great – if you do not go to the other extreme.
Ratings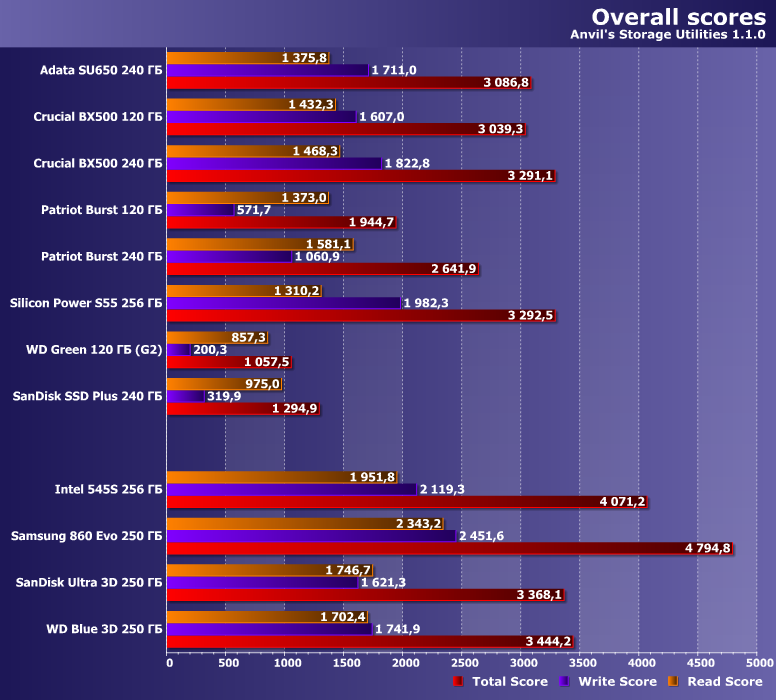 In terms of low-level tests, the "anti-record holders" were known before these tests themselves – and the forecast came true. Although, as we saw above, over the past year WD somewhat "tightened up" their budget controllers, but this is still not enough for hunting parrots. But what is useful for her is the dynamic memory allocation for the SLC cache and its "aggressive" use, which Silicon Motion, Realtek have, and, as we have seen today, Phison S11 can also occur in some configurations. This is especially true for write operations – since TLC flash memory itself (not to mention QLC) cannot work quickly in small volumes in such scenarios, it must be masked in every way. But what's possible with such an approach can "sag" at times the performance of some banal sequential recording … especially on a drive filled with data "in the operating mode" – so the user will find out later. At first, it is quite possible that he will test a new purchase with low-level utilities – and he will be happy. In general, everything is in order, of course. It just needs to be considered.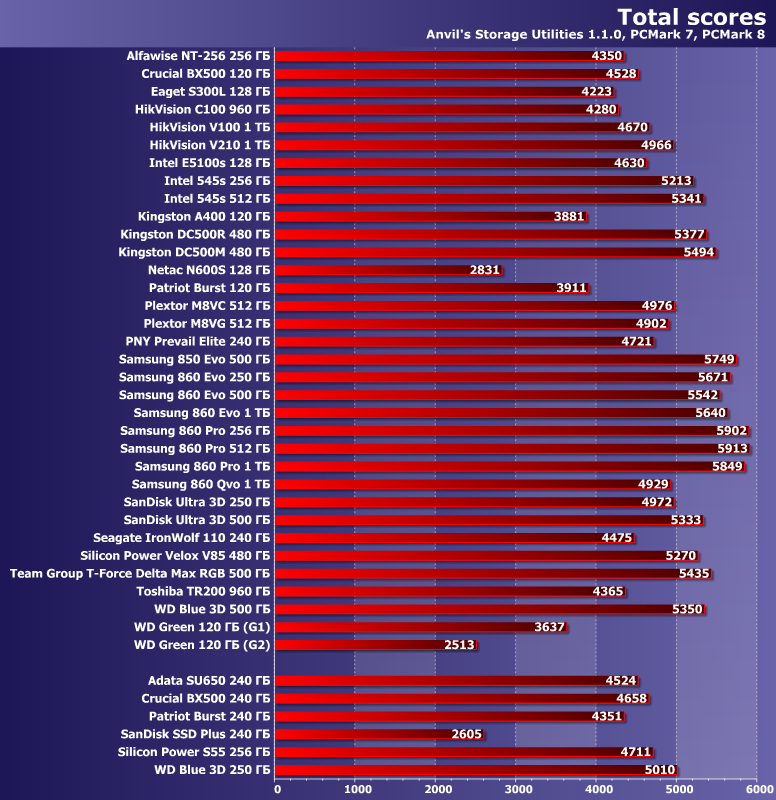 On the other hand, if you try to express the performance of drives in one number, then the scatter of results among SATA SSDs will not be so great. In any case, if you try to compare it with processors or video cards – but, in fairness, there is much more variation in prices. Moreover, in the case of such components that critically affect performance, this effect can be traced almost always and everywhere. Unlike drives, most of the time they behave in the same way. But there is a smaller part – requiring more attention to itself. Or not requiring – with the assurance that such complex situations will not arise.
Total
The main problem of choosing a budget SSD is that when its purchase is justified, the choice … is generally not needed. One example is an office typewriter. Or a budget laptop used to surf the Internet a bit, listen to music, play casual games, etc. These tasks have recently been more and more actively "crawling" onto smartphones, but portable is much more convenient (and familiar) or even a stationary personal computer. I don't want to overpay – and I don't need to. Any budget SSD will cope with such work, you just need to determine the required capacity, and then compare prices and warranty conditions.
If there are at least some serious requirements for the data storage system that allow you to make an informed choice, then it immediately turns out that it is better to choose among higher-class drives. Moreover, the attempts to choose a budget may turn out to be unproductive: in this segment, it is never known in advance what will end up in the case of the purchased device. There are exceptions: for example, the Crucial BX500 has not changed for a long time, and there is really nothing to change in it. And SanDisk Plus / WD Green seemed to be more or less "settled down" in the configurations – although it would be better, of course, they did not. And if you move a little away from the products of first-tier brands (it is usually more expensive, but in this segment the difference in price is important), then you can meet any. And even when at least something is known about the drive, its performance is unpredictable. For example, the same Phison S11 controller with different memory can work differently (and, in principle, with the same one too, since there are already many firmware with different settings for it). In the testing section, we just observed this on the example of Patriot Burst and Silicon Power S55. But tomorrow in the store they can easily change stickers , or even both will become something third and previously unprecedented. And all over again 🙂
In general, if budget SSDs really had to be carefully chosen, it would be very difficult to do this. Fortunately, we repeat, there is no special need for this: they are most useful where there are no requirements for the drive except cheapness. So all changes in configurations of such SSDs are primarily aimed at lowering prices. Performance is … In general, it almost does not change, although in special cases unpleasant surprises are possible. However, the same thing was observed before, so it can be considered as stability.